By Sarah P.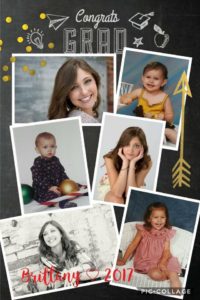 Warning- long & sappy!! People say that the words "time flies" are cliché or just silly little words that old people mutter as they speak of times gone by, but I have realized with each passing day that there are no 2 words that ring more true than these words and  I know there is wisdom within..my girl graduates from high school this Sunday…My mind battles with the 2 lines of thought whether I should either mourn for the baby girl she was or celebrate this young lady that I see standing there before me…she is lovely, she is smart and kind. I can still see the little brown- haired girl sitting beside her bed with a pile of books there ready to read with her moma…my little helper, my little rock that kept her moma together time after time…I do look forward to what her future holds I am just sad that I let time just slip by so fast-i should have let things go, stopped worrying and just enjoyed the time we had together, not rushed it away-when you are in the thick of life, you don't realize that the time of stress that you are in only lasts but a moment, but a speck in time…a professor once told our class as we were prepping Continue reading→
Volume VIII of SUNSETS ON MOBILE BAY 2019 Calendar is available until February only!
Featuring the beautiful photography of Award-Winning Photographer Tommie Peterson. Don't miss this opportunity, not only to enjoy these awesome pictures of Mobile Bay but also to support Joe McDonald Ministry. Be sure to check for discount codes at LULU.com!

Professional Mom