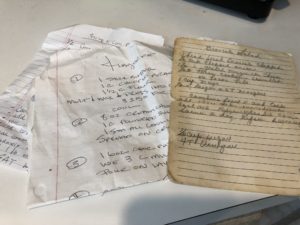 I don't really remember what I was looking for, but the kitchen drawer was the spot I chose to start. Everyone has "that drawer" in the kitchen, be honest, everything paper and otherwise that you have saved is there. Addresses, recipes, pens, birthday candles, I could go on and on. As it turns out I found several recipes, some I had made before and some not. I picked three and decided to rustle up all the ingredients and make them.
After a hundred-dollar trip to the grocery store, I was ready to proceed. My son and his family were on the way home from a trip and I wanted to prepare a great meal, so I chose three out of the ordinary (for me) recipes to make. I will share these recipes at the end of this post.
There is a certain significance to these recipes in that my mother-in-law, Kathleen McDonald, who had a huge impact on my cooking and all-around housekeeping skills, wrote one of these recipes with her own hand. She's been in Heaven for about ten years now, so it was particularly moving for me find this recipe. That was the Broccoli Salad. The Four Layer Pie, our all-time fave, was another recipe, although written by me, but was another family recipe I got from Grandma.
She was what I would call a precise cook. As I put these recipes together, I was reminded of her special and neat way she cooked, especially the Four Layer Pie, because you could see the layers both defined and beautiful. The Broccoli Salad was cut in tiny little pieces, again, precise and beautiful to behold. My daughter pointed this out when we ate mine, but, oh well, it's me. As I was pressing the crust into the pan for the pie, and thinking of Grandma McDonald, I sized my cooking skills up as too good for "Worst Cooks in America," yet not good enough for "Chopped." Funny what you think about when you're cooking.
Order The Gospel Parade Today!
        
Don't miss
 "The Gospel Parade!" Second printing!
A great way to share the Gospel with your children
and grandchildren. A "read to" or read on their own,
    target audience is 4-9, but all ages will enjoy this!
The first edition was published in 2011, with just a few changes in the pictures, this is the same story that thrilled all of our readers!
Our friends at "Wee Can Know" even made shoebox floats of this beautiful parade (pictures in blog post!) Available now in
hardbound and softbound and at a reduced price!
Order yours today! Search "The Gospel Parade."
Sunsets on Mobile Bay Calendar!!! Order our 10th Anniversary Edition today for 2021!
Featuring the awesome photography of local artist, Tommie Peterson. Tommie has delivered on the most fantastic photos yet! This is Volume X and if you've been getting one every year, you won't be disappointed! Lovely views of the Mobile, Alabama skyline with the most gorgeous sunsets ever! Every year, this calendar is produced with the proceeds (after printing costs) donated to Joe McDonald Ministry. This is a ministry that is telling the Gospel of Jesus Christ around the world.
Order today so you'll have your calendar on January 1!!! These make awesome Christmas gifts as well, but you need to order NOW!
Be sure to use a LULU.com discount code, this will not affect the proceeds!
For more info about Joe McDonald Ministry, visit joemcdonaldministry.org
Order here:
Summer 2021

Professional Mom
Subscribe today for the latest news and posts!
Professional Mom's newest affiliate partner!
Experience the Ultimate Indoor LEGO® Playground at LEGOLAND® Discovery Center! Families with children aged 3 to 10 can enjoy a world of creativity, color and building fun. Buy tickets online and save! (Atlanta location featured here, but there are locations all over the US and Canada!) Summer fun couldn't get any better!

https://atlanta.legolanddiscoverycenter.com/tickets/
Graduation? Birthday coming up? Retirement? Or just because! Here's the gift that always fits! Give with assurance that it WILL be used! I l recommend Amazon! Please use my link above for all of your shopping needs!